Bauman's History
Established 1892
---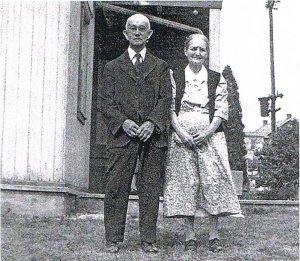 John and Catharine
Bauman's started in 1892 when John W. Bauman purchased a cider press and operated it with the steam engine in his carriage manufacturing shop. Soon he began cooking apple butter for farmers of the community. They called it "lattwaerrick" in their Pennsylvania German dialect.
It has been said that John used the apple butter recipe his wife, Catharine Wiegner, had received from her Schwenkfelder ancestors, who had settled in southeastern Pennsylvania alongside John's Mennonite forefathers.
In 1734 the followers of Caspar Schwenckfeld came to Pennsylvania as Christian refugees from Silesia, seeking freedom of worship. They survived on the high seas due in part to an ample supply of apple butter, a fruit product that keeps its goodness without preservatives or refrigeration. On arrival they celebrated with a meal of bread and apple butter, an occasion still commemorated in Schwenkfelder churches.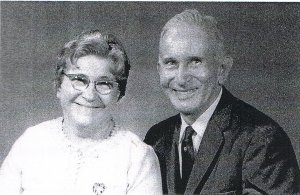 Ruth and Stanley
Before long John Bauman's apple butter business had replaced his carriage shop. As satisfied customers spread the word the business has continued to grow since the turn of the century. Their youngest of nine children, Stanley, became a partner in the business after he graduated from Ursinus College in 1928. Stanley then married Ruth Latshaw in 1941 and together they ran the business until Stanley's death in 1977.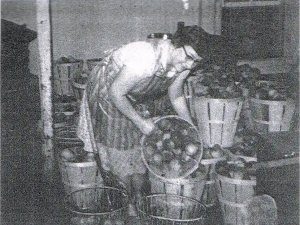 Ruth
Now in the third generation Bauman's Apple Butter Factory is still a family operation in the nineteenth century village of Sassamansville.
The founder's grandson, Harvey, a mechanical engineer, along with his wife, Kathy, trained as a teacher, keep the tradition going. Their children, John and Heidi, have helped out in the factory since they were young.
John works as a software engineer in Austin, Texas where he lives with his wife Katlyn. He and his wife take care of our website and John brainstorms electrical problems over the phone with his dad.
Heidi is a music teacher living in Harrisonburg, Virginia along with her husband Justin and son Everett. Her family enjoys visiting the factory and Everett loves to watch the machinery in action.
---
Images from our history
Click on an image to open the (very large) picture