Apple Butter Banana Bread Muffins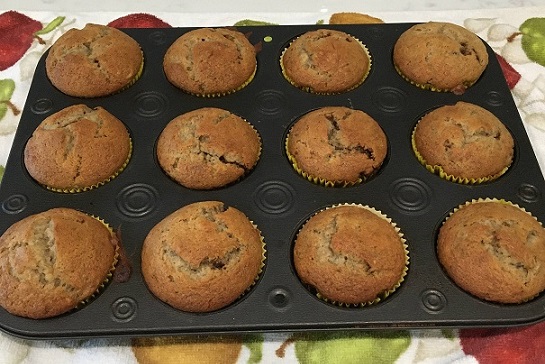 We like to bake this banana bread in a muffin tin so it bakes quickly and is easy to serve, but you can bake it in a loaf pan as well.
Ingredients
• 3 very ripe bananas
• 1 cup sugar
• 1 stick (½ cup) unsalted butter, softened
• 2 eggs, beaten
• ½ teaspoon cinnamon
• ½ teaspoon vanilla extract
• 2 cups flour
• 1 teaspoon baking soda
• ½ cup Bauman's Apple Butter

Directions
1. Preheat the oven to 350° F. Line a muffin tin with greaseproof liners and set aside.
2. Using a fork or a mixer, mash the bananas. If your bananas are not very ripe, you can bake them in the oven at 300° F until the skin turns black.
3. Using a mixer, beat bananas, sugar, butter, eggs, cinnamon and vanilla extract together.
4. Add flour and baking soda, mix until just combined.
5. Using a spoon or ice cream scoop, fill each muffin tin about half way with batter.
6. Dollop a spoonfull of apple butter on top of each muffin. Spread the apple butter with a spoon, then add batter until the liner is full.
7. Bake for 20-25 minutes, until the tops are golden brown and a toothpick comes out clean.