Apple Cider Loaf Cake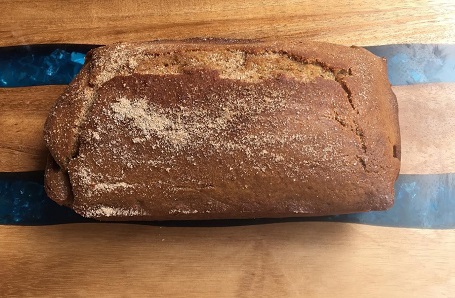 This quickbread is baked in a loaf pan, and any extra slices can be frozen wrapped in plastic wrap.
Ingredients
• 1 cup Bauman's apple cider
• ½ cup sour cream
• 2 teaspoons vanilla extract
• 2 eggs
• ¾ cup brown sugar, packed
• 1 stick (½ cup) unsalted butter, melted
• 1 ¼ cup flour
• 2 tablespoons cornstarch
• 1 ¼ teaspoon baking powder
• ½ teaspoon baking soda
• ½ teaspoon salt
• ½ teaspoon cinnamon
• ¼ teaspoon nutmeg

Directions
1. Preheat the oven to 325° F. Line a loaf pan with parchment paper and set aside.
2. Bring apple cider to a simmer in a small saucepan. Simmer until it is reduced to ½ cup. Let cool, then stir in sour cream and vanilla.
3. In a large mixing bowl, whip eggs and brown sugar with a whisk until frothy. Add the melted butter and whisk to combine.
4. In a medium bowl, mix flour, cornstarch, baking powder, baking soda, salt, cinnamon and nutmeg together.
5. Alternate adding flour mixture and cider mixture into the egg/butter/sugar mixture. Mix until all lumps of flour are incorporated.
6. Bake for approximately 55 minutes. A toothpick inserted should come out clean.