Bite-Sized Baked Brie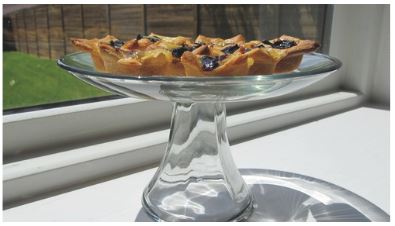 Baked in a mini muffin pan, these bite sized appetizers are perfect for a holiday party.
To store - place in an airtight container in the refrigerator.
To reheat, microwave for 10 seconds.
Ingredients
• 1 fresh baguette
• ⅛ cup olive oil
• 4 oz. goat cheese, room temperature
• ½ cup Bauman's Apricot Butter or Cranberry Pear Butter
• 6 slices prosciutto, each cut into 4 strips
• 24 baby arugula leaves
Directions
1. Preheat oven to 375° F. Slice a thin baguette into 24 slices approximately ½ inch thick. Place on a baking sheet, and brush each side with olive oil. Bake for about 10 minutes, or until crisp and slightly golden.
2. Spread goat cheese on each crostini. Spoon a teaspoon of fruit butter onto each slice.
3. Using kitchen shears, cut each prosciutto piece into 4 smaller pieces, and top the crostini with these smaller slices (fold them in half if needed to fit onto the bread). Place a fresh arugula leaf on top of each crostini.