Pumpkin Butter Cinnamon Rolls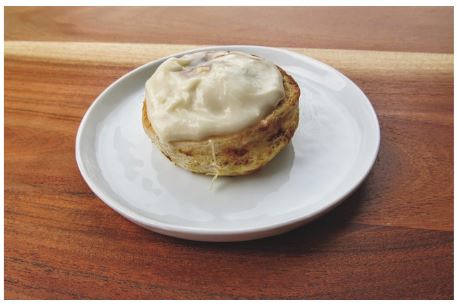 These super simple cinnamon rolls are great with Bauman's Apple Butter as well. This recipe makes 8 cinnamon rolls.
Ingredients
For cinnamon rolls:
• Non-stick spray
• 1 can crescent rolls
• ½ cup Bauman's Pumpkin Butter
• 1 teaspoon cinnamon
• 2 teaspoons granulated sugar

For icing:
• 2 oz. cream cheese, softened
• 1 cup powdered sugar
• 1 teaspoon vanilla extract
• 2 tablespoons unsalted butter, melted
• 3 tablespoons milk

Directions
1. Preheat oven to 350° F. Grease a 9 inch pie pan or springform pan with non-stick cooking spray.
2. On a lightly floured surface, unroll the crescent roll dough and pinch perforations to seal. Spread pumpkin butter evenly over the dough. Sprinkle cinnamon and sugar on top.
3. Starting on the short side of the rectangle, roll the dough up into a log. Cut the roll into about 8-9 pieces. Place rolls into a baking dish leaving space between each roll. Bake for 20 to 22 minutes, until turning lightly golden at the edges.
4. Meanwhile, prepare the cream cheese icing by mixing together cream cheese, powdered sugar, vanilla, butter and milk.
5. Allow cinnamon rolls to cool for 10 minutes, then spread icing over the top of each roll. Serve warm.