Chocolate and Fruit Butter Fudge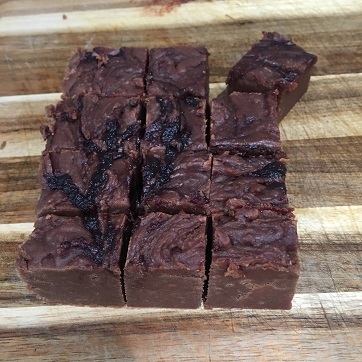 This recipe requires a bit more precision in the amounts of each ingredient, so we measured some of them using a kitchen scale. You will also need a candy thermometer or an instant read thermometer.
The flavor combinations here are endless - some of our favorites are dark chocolate with cherry butter, milk chocolate with strawberry butter, and white chocolate with cranberry pear butter.
Ingredients
• 900g sugar
• 1 cup heavy whipping cream
• ½ cup light corn syrup
• ½ cup evaporated milk
• 150g unsalted butter
• 140g high quality chocolate of your choise, chopped
• 3 tablespoons Bauman's fruit butter of your choic
Directions
1. Line a 8"x 8" pan with parchment paper and spray with non-stick spray.
2. In a large pot, combine sugar, heavy whipping cream, corn syrup, evaporated milk and butter. Bring to a boil, stirring continuously. The mixture will foam a lot as it boils, so use your largest pot. 3. Add chocolate, and cook until the mixture reaches 241° F.
4. Pour mixture into a heatproof bowl (such as pyrex) and let cool for 5 minutes.
5. Beat mixture vigorously with a wooden spoon until it cools and thickens.
6. Pour into prepared pan. Dollop fruit butter of your choice on top, and swirl with a toothpick or skewer.