Peach Crumble Bars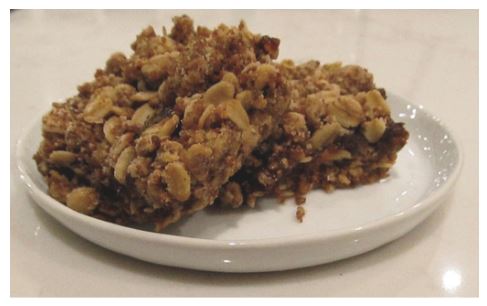 These oat bars are an easy grab and go breakfast.
Ingredients
• 1 ½ cups all-purpose flour
• 1 cup rolled oats
• 1 cup brown sugar, packed
• ¾ teaspoon baking soda
• ½ teaspoon salt
• ½ teaspoon cinnamon
• ¼ teaspoon nutmeg
• ¾ cup (1 ½ sticks) unsalted butter, melted
• 1 cup Bauman's Peach Butter (or Honey Peach Butter)
Directions
1. Preheat the oven to 350° F. Line an 8" x 8" pan with parchment paper and set aside.
2. Mix together the flour, oats, brown sugar, baking soda, salt, cinnamon, and nutmeg. Add the melted butter, and stir until you have a crumbly mixture. Reserve 1 cup of the mixture for the top of the bars. Press the rest of the mixture into the bottom of the pan.
3. Bake for 12 minutes. Let cool for 10 minutes.
4. Evenly spread the peach butter over the baked crust. Sprinkle the reserved 1 cup of crumble mixture over the top of the peach butter. Return to the oven and bake for 24-27 minutes - the topping will look cooked and lightly browned.