Sweet & Spicy Drumsticks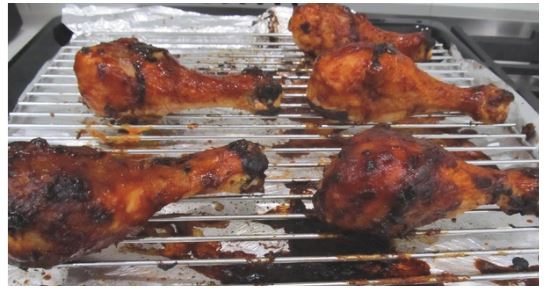 Ingredients
• Kosher salt
• 4-6 chicken drumsticks
• ¼ cup rice vinegar
• ¼ cup sriracha
• ¼ cup Bauman's Strawberry Butter
• ¼ cup Bauman's Apple Cider
• ½ cup cake flour
• 1 ½ teaspoons cornstarch
Directions
1. In a medium bowl, salt drumsticks and cover. Refrigerate for 1 hour.
2. Mix rice vinegar, sriracha, fruit butter and apple cider in a small saucepan over high heat. Bring to a boil, then reduce heat to medium and simmer for 10 minutes.
3.Preheat oven to 450° F. Cover a baking sheet with foil and place a wire rack on top. Pat drumsticks dry using paper towels. Roll in flour/cornstarch mixture and place on prepared baking sheets.
4. Roast drumsticks for 50-60 minutes, turning every 10-15 minutes. Remove from oven and toss drumsticks in half of the sauce. Return to the oven and cook for 10 additional minutes.
5. Remove from the oven and brush the remaining sauce on the drumsticks.