Strawberry Raspberry Balsamic Grilled Chicken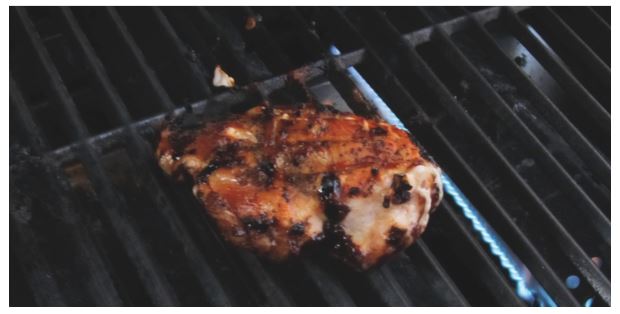 Ingredients
• ¼ cup Bauman's Strawberry-Raspberry Butter
• 2 tablespoons BBQ sauce
• 1 tablespoon honey
• 2 teaspoons balsamic vinegar
• 2 boneless, skinless chicken breasts
• 1 tablespoon olive oil
• Salt and black pepper, to taste
Directions
1. Combine fruit butter, BBQ sauce, honey and vinegar in a jar. Shake to combine. Add more honey or vinegar to taste. Set aside.
2. Score chicken breasts on both sides in a diamond pattern by making parallel shallow cuts about 1" apart. Rub olive oil on both sides, and season with salt and pepper.
3. Grill over medium-high heat, cooking the first side for about 4 minutes. Turn chicken and spoon or brush half the sauce over the cooked side. Grill chicken about 10-15 minutes total, until the internal temperature registers 165° F. Once the chicken is fully cooked, brush the remaining sauce over the other side. Let rest for 5 minutes covered in foil before serving.